Carolina Cotton - Discography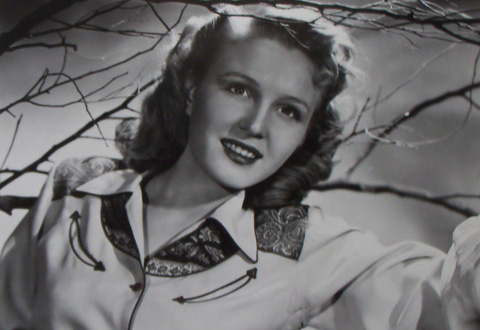 Carolina Cotton
, born Helen Hagstrom on October 20, 1925 in Cash, Arkansas, was an American singer and actress known as the 'Yodeling Blonde Bombshell', the 'Girl of the
Golden West
' and the 'Queen of the Range'.
 
She was born to an Arkansas farming family who moved to San Francisco during the Great Depression. She took dancing classes became a child singer and gradually accompanied travelling shows. At the age of 16 she was a high school student who would visit a radio station to watch the Dude Martin's Roundup Gang. When the band yodler left to get married, Martin Dude Martin asked her whether she could yodel. She replied "Sure I can! Why not?" though she had never before yodeled.  Dude gave her her nickname 'Carolina' because he reckoned that Arkansas was not so well recognized in California. The surname 'Cotton' came later thanks to fans and a radio disc jockey named Cottonseed Clark.
 
In 1944, she travelled to Hollywood to pick up costumes where she bumped into songwriter Johnny Marvin. He offered her a part in a film called 'Sing Neighbor Sing' that led to a further appearance in 'I'm From Arkansas'. She was then asked to join the Spade Cooley Orchestra. In addition to appearing in musicals she made a variety of Westerns where she learned how to ride a horse. She made a variety of television appearances with a planned series Queen of the Range never coming to be. She stated she only left making films when they no longer made B Westerns.
 
Carolina hosted a program called 'Carolina Calls' twice a week on the Armed Forces Radio Services in the late 1940s and early 1950s and made tours of Germany and Korea.
 
Inspired by meeting many children around the world during her travels, Hagstrom decided to become a teacher but still performed, especially at western film festivals. She retired from Mount Vernon Elementary School in Bakersfield, California, in 1997, and died on June 10, 1997, after battling ovarian cancer for three years.
Carolina Cotton
- Album List (4 Albums)
2001 - Carolina Cotton - Yodel Yodel Yodel
2005 - Carolina Cotton - Yodeling Blonde Bombshell Volume 1
2009 - Carolina Cotton - Texas Home
2009 - Carolina Cotton - Yodeling Blonde Bombshell Volume 2
Many Thanks To Original Contributors.

Elaine4




Posts

: 6090


Join date

: 2013-04-25



2001 - Carolina Cotton - Yodel Yodel Yodel @320
Track List:
01 - I Love To Yodel
02 - I'd Love To Be A Cowgirl (But I'm A Scared Of Cows)
03 - 'Cause I'm In Love
04 - Lovin' Ducky Daddy
05 - Three Miles South Of Cash (In Arkansas)
06 - Betcha I Getcha
07 - You Got Me Wrapped Around Your Finger
08 - Chime Bells
09 - Yodel Mountain
10 - Why Did I Fall For Abner (w Merle Travis)
11 - When The Bloom Is On The Sage (w Merle Travis)
12 - Texas Home (w Merle Travis)
13 - I'm All Alone (w Bob Wills)
14 - Yodel Yodel Yodel
15 - Nola
16 - You're Gettin' A Good Girl
17 - Cattle Call
18 - Boo Hoo Blues
19 - Crime Will Never Pay (w Gene Autry)
20 - Betcha I Getcha
21 - You Always Keep Me In Hot Water Over You
22 - Three Miles South Of Cash (In Arkansas) (w Bob Wills)
23 - Lovin' Ducky Daddy
24 - 'Cause I'm In Love
25 - Three Miles South Of Cash (In Arkansas)
Code:

https://www19.zippyshare.com/v/TBsOPVPO/file.html

http://www.filefactory.com/file/dkavo9r9rx3
Last edited by Elaine4 on Sat May 11, 2019 1:37 am; edited 3 times in total

Elaine4




Posts

: 6090


Join date

: 2013-04-25



2005 - Carolina Cotton - Yodeling Blonde Bombshell Volume 1 @320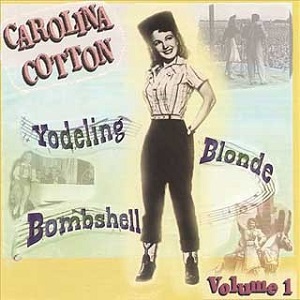 Track List:
01 - Three Miles South Of Cash (In Arkansas)
02 - I Love To Yodel
03 - What's The Matter With You (w Deuce Spriggens)
04 - Singing On The Trail
05 - You And My Old Guitar
06 - Mockingbird Yodel
07 - Mama Yo Quiero
08 - I Betcha I Getcha
09 - Tennessee Saturday Night
10 - Cattle Call
11 - You Always Keep Me In Hot Water
12 - You're Gettin' A Good Girl
13 - Rancho Grande
14 - Cause I'm In Love
15 - Yodel Yodel Yodel
16 - I'm Gonna Round Up My Blues
17 - Tater Pie
18 - Nola
19 - Carolina Cotton Calls #88 (Armed Forces Radio Service)
Code:

https://www19.zippyshare.com/v/rnB3JpLm/file.html

http://www.filefactory.com/file/100e4kr5ilbz
Last edited by Elaine4 on Sat May 11, 2019 1:38 am; edited 3 times in total

Elaine4




Posts

: 6090


Join date

: 2013-04-25



2009 - Carolina Cotton - Texas Home @320
Track List:
01 - I Love To Yodel
02 - I'd Love To Be A Cowgirl (But I'm Scared Of Cows)
03 - 'Cause I'm In Love
04 - Lovin' Ducky Daddy
05 - Three Miles South Of Cash (In Arkansas)
06 - Betcha I Getcha
07 - You Got Me Wrapped Around Your Finger
08 - Chime Bells
09 - Yodel Mountain
10 - Why Did I Fall For Abner (w Merle Travis)
11 - When the Bloom Is On The Sage (w Merle Travis)
12 - Texas Home (w Merle Travis)
13 - I'm All Alone (w Bob Wills)
14 - Yodel Yodel Yodel
15 - Nola
16 - You're Gettin' A Good Girl
17 - Cattle Call
18 - Boo Hoo Blues
19 - Crime Will Never Pay (w Gene Autry)
20 - Betcha I Getcha
21 - You Always Keep Me In Hot Water Over You
22 - Three Miles South Of Cash (In Arkansas) (w Bob Wills)
23 - Lovin' Ducky Daddy
24 - 'Cause I'm In Love
25 - Three Miles South Of Cash (In Arkansas)
Code:

https://www19.zippyshare.com/v/79Dv6oUu/file.html

http://www.filefactory.com/file/3o5ig4bm03fz
Last edited by Elaine4 on Sat May 11, 2019 1:38 am; edited 2 times in total

Elaine4




Posts

: 6090


Join date

: 2013-04-25



2009 - Carolina Cotton - Yodeling Blonde Bombshell Volume 2 @320
Track List:
01 - Three Miles South Of Cash In Arkansas (w Bob Wills)
02 - Put Your Shoes On Lucy
03 - Boo Hoo Blues
04 - Lovin' Ducky Daddy
05 - Hoosegow Serenade (w Scotty Harrell)
06 - I'd Love To Be A Cowgirl But I'm A-Scared Of Cows
07 - Ragtime Cowboy Joe
08 - Be Honest With Me
09 - You Belong To My Heart
10 - I Been Down In Texas
11 - Yodel Mountain
12 - The Old Square Dance Is Back Again
13 - Chime Bells
14 - You've Got Me Wrapped Around Your Finger
15 - Glad Rags
16 - I'm All Alone (w Bob Wills)
17 - He's A Tough Hombre (w Saddle Kings)
18 - I'm Gonna Sit Right Down (And Write Myself A Letter)
19 - Oh Dem Golden Slippers
20 - Oh Where Has My Little Dog Gone
21 - Weary Lonesome Blues
22 - Carolina Cotton Calls #89 (Armed Forces Radio Service) (1953)
Code:

https://www19.zippyshare.com/v/h1ET2LOO/file.html

http://www.filefactory.com/file/jqcjj2vrc5t
Last edited by Elaine4 on Sat May 11, 2019 1:39 am; edited 2 times in total

Elaine4




Posts

: 6090


Join date

: 2013-04-25




Elaine4




Posts

: 6090


Join date

: 2013-04-25



---
Permissions in this forum:
You
cannot
reply to topics in this forum